Mike Bennett's Horror Film 'Vegan Vampires From Zorg' Finally Released
26 July 2023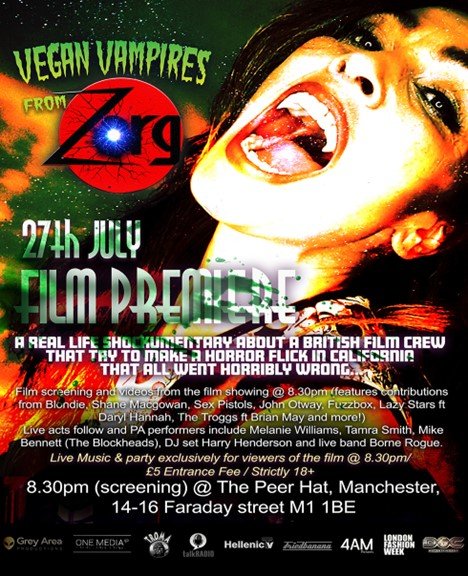 From LOUDERTHANWAR.COM
In association with Friedbanana Productions Maverick Producer and LTW Radio Presenter Mike Bennett, who has produced groups such as the Fall, The Specials, Shane MacGowan, Ian Brown and many more, finally gets to air a cut of the long-awaited horror film Vegan Vampires From Zorg.
"We've already got a deal with One Media IP who are based at Pinewood Studios. They've got a lot of different vehicles and platforms and of course that includes Amazon Prime which is absolutely perfect for this project. However it will be going on some more specialist streaming sites as well as a noted cinema chain which will be announced shortly".

"It's been really hard work because it's actually a documentary about a film that went horrifically wrong. so it's material found from the cutting room floor and anecdotes about alleged criminal activity that took part onset and how allegedly the budget was plundered and whilst we were meant to be shooting the film, pornography was being made. This will all come out in the actual movie with anecdotal and cinematic evidence".

"There were a lot of dodgy things going on with people covertly filming things on their phones. We managed to acquire a lot of the footage and found out the incredible subplot to allegedly sabotage the fun clean B-Movie which was to be called Back to Drak . A fun little piece celebrating the oldest vinyl store in California, Vinyl Solution, which is still there and run by this brilliant musicologists, Drak. The idea was always that it was a spoof documentary, but highlighting and promoting the love of vinyl, whilst vegan vampires lurch around in the vaults of the store. Elements and outtakes of all of that are featured in the film, but one of the most exciting things is the soundtrack. There is a track called Rihanna Grey by Glamnezia, featuring Mike Bennett which also has Steve Etherington from Modern Romance on it. It pretty much describes one of the alleged protagonists of the sabotaging of the original film, and describes her character and like the Rocky Horror Picture Show or the Great Rock 'n' Roll Swindle. We go into tracks made by people either in the film or that were involved in the original soundtrack. This particular track is very poignant because it shows the correct term causing mayhem because, allegedly, drinks were spiked and riots and orgies ensued. It's going to come out as a single and I think that the visuals are very filmic, and give a good gritty example of the Real life horror surrounding what was meant to be a spoof horror film. The alleged actress tried to entice Simon Wolstencroft of House Of All, formally of course of The Fall, to take part in a dubious scene. His side of the story is covered on the links below".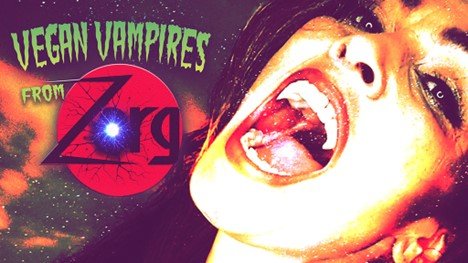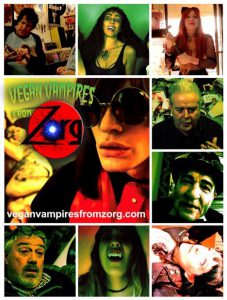 MIKE BENNETT PUTS HIS VERSION FORWARD AND TALKS ABOUT THIS SOUNDTRACK
"The soundtrack is really fantastic, and the people we got involved with just amazing. Yes, the Rihanna Grey tune is poignant, but more descriptive of the character involved. Other tracks by Melanie Williams featuring Peter hook such as The Healer are more about the fictional characters, so you've got lots of different layers. Another great track Melanie did was with the Beautiful People and it's cinematically beautiful. It comes from the classic 60s 90s album, but with Melanie being very animated about her opinion on various insidious events that took part, both in the other movie and on set".

"Some of it was shot in California and other scenes were shot in Manchester. There's a great scene where she is on the bed asking for atonement and forgiveness for the likes of characters such as Rihanna Grey, who allegedly goes under the name of Abina Fox and ridiculously Joanna Bellybutton. She also speaks candidly about the vegan vampire injection which turns people into zombiefied vampires, but this was never a political statement as it was shot prior to Covid".

"At one point we had things taken down from various platforms as the material was mistaken for being something political, but in fact there are many of horror films about vampiric viruses and potions that turn people into zombies. So the knee-jerk reaction was quite ridiculous, but I have to say that that has calmed down quite a lot as we are not aiming to enter the political arena at all. We are trying to tell a story about a movie that went horribly wrong, whilst sending out an eclectic array of genre of popping music, provided by a magical menagerie of huge stars. I have to say, providing a platform for new artists such as Kavanagh and the fantastic Coral Roberts who does a track called Lonely Girl".

"We feel it's important to have a wide range of musical artists on both the soundtrack and in the film and if the big artists attract the attention the new artist benefit greatly. We've spoken about the film before, but not quite so much about the soundtrack which I think is the cornerstone of the body of work. One Media IP at Prime have been brilliant and have provided us with elements of the Sex Pistols catalogue including people like Johnny Kaplan featuring Daryl Hannah, Blondie, the Sex Pistols, obviously Melanie Williams and Peter Hook, who played a huge role in providing the musical backdrops that enhances the atmosphere that intertwines with the dramatic and documentary aspects of the documentary. It has an art-house feel, and in my opinion it's the soundtrack that is the driving force".

"I can't pretend that it has been an easy task putting the film together. Even in making the documentary, we have had problems with a certain minuscule gentleman who ran off with much of the footage. I am talking about 2 feet, maximum 2½ feet tall! He met John Otway at the vinyl store and talked about him in a clip that we provided for you. I wanted to take this opportunity really of saying how important music is to the film and in many ways as important as the script and narrative. It drives the drama forward, then something very dramatic and arousing can suddenly stop and we just break down into Birdsong and something ambient on maybe a harmonium or a weeping cello – it's been a fascinating part of the process".

"Some of the subject matter that we tackle is very gritty and scary, not because of the horror element, but because it actually has things that happened in real life and in real time. The creepy soundtrack accentuates everything and heightens the reality, and I think that that's what scoring is all about. A lot of the time when things went wrong on the set in California, musician's and actors jumped into studios and created tracks that depicted what was happening, and I think that that's what makes this movie rather unique. We are thoroughly grateful to people who have taken that all essential risk to make this vegan vampire epic film experience happen!"
See the full article with information on the show and links to tracks and interviews here.